Hanga is Clementine's virtual client service solution based on innovations in speech and text analytics.
Hanga understands. Hanga provides you a direct switch. It is easier with Hanga.

Accelerated customer service
Clients can phrase their problems much simpler using their own words than finding their way in a pre-built, complex machine hierarchy. Hanga processes human speech, understands the purpose of the call, and automatically directs the caller to the appropriate endpoint, providing a quick, competent solution to clients.

Decreased operating costs
With the elimination of transfers and the reduction of call time, operating costs can be lowered. Using the automated customer service features, customer service representatives can be relieved, and the resources released this way can be invested in creative, value-added processes. In addition, the time spent on the maintenance of the complicated menu system of the IVR can also be reduced significantly.

Client satisfaction
Customer experiences related to the services provided by companies (also as products) have a significant influence on the relationship between the consumers and a brand. Trust and loyalty – rendered unstable by the strong supply market – is strengthened by positive experiences, while deteriorated much more than the former by cases considered less good.
Remember: no one has ever complained about quick and precise administration!
Text analytics. Speech analytics. Machine learning. The best of our knowledge culminates in the speech-based IVR solution.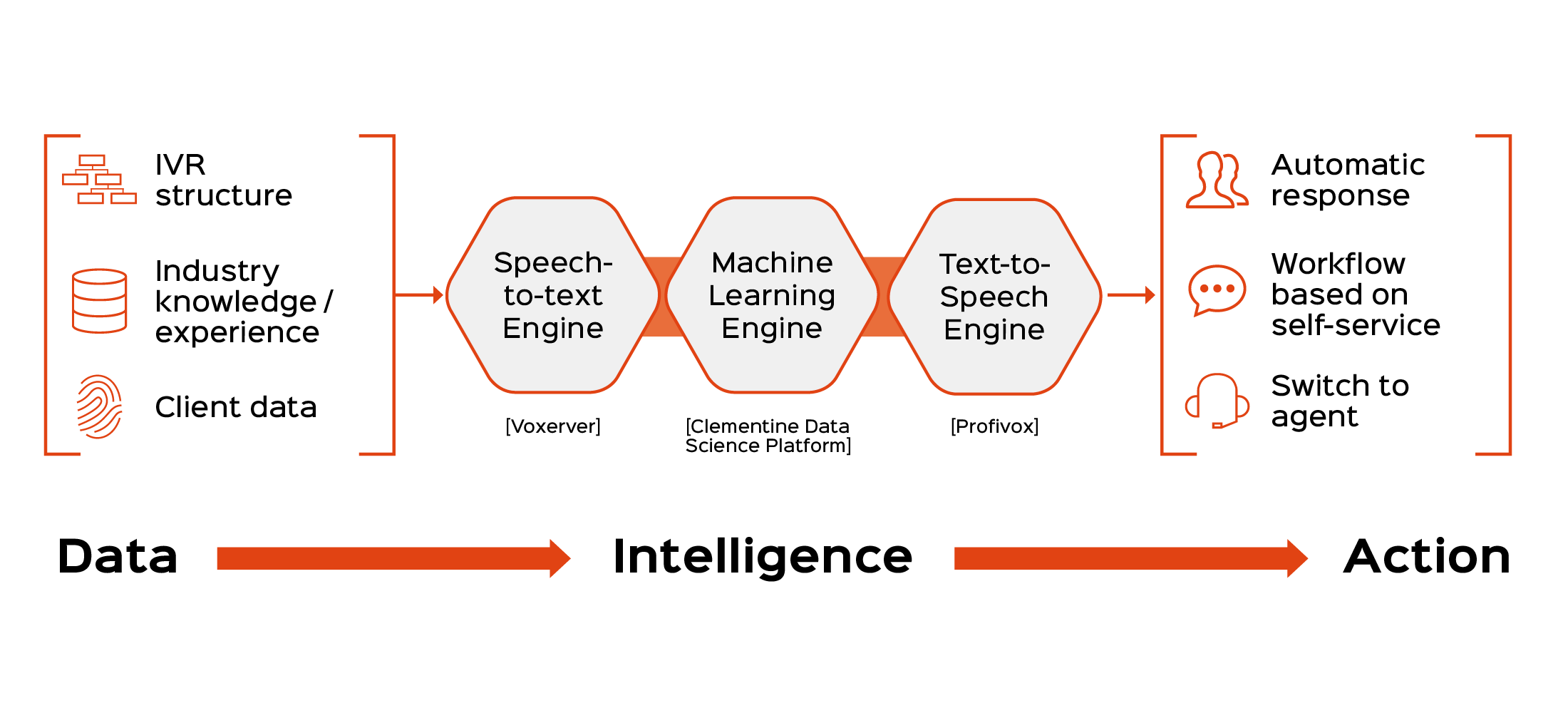 It is a foundation, on which we can build.
Hanga is integrated into the existing customer service structure and system. The virtual customer service representative knows all the nooks and crannies of the traditional IVR's structure, has all the necessary industry-related information and communicates smoothly with databases using the most complicated hierarchies.
Know-how and technology.
Hanga is able to transform speech into structured data.
It uses Clementine Data Science Platform's applications (relevant dictionaries for the different industries, topic modelling, NLP) to process data.
The client receives the speech-based message through a designated engine.
Customer service solutions with added value.
Hanga provides user experience with added value for Clients, who were accustomed to traditional customer service solutions and, at the same time, brings relief to operators by performing automatable tasks that do not need human intervention.
Automatic response, assistance for self-service tasks and transferring calls to the operators by a virtual customer service representative.
Hanga is virtual. But we will still show it to you.
We picked out four short scenes from the everyday operation of Hanga to show you that it supports the work of customer service centres much more efficiently than traditional IVR-based solutions.
Hanga and loan – mechanism
Hanga and account statement
Hanga and account statement – mechanism
Clementine
Clementine is the leading analysis, advanced analytics company in Hungary. Innovative approach, a wide range of industry-skills, relevant business experience, tried and proven analytical technologies. These are just a few reasons why our clients have chosen us in the past 15 years, when they faced business challenges for the solution of which data and text analytics support has proved indispensable. We at Clementine have always pursued to develop solutions together with our partners that are capable of giving real answers to the most complex business and process-side problems, irrespective of the specific area in which these arise.
Our services:
Distribution of IBM analytical tools and products

Industry-specific analytical solutions

Training, research and development